Archive
Third Legislation Period (13.12.2007 - 03.11.2010)
Jakup Krasniqi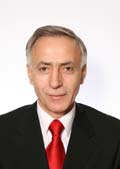 Functions in the Assembly of Kosovo
Party
Democratic Party of Kosovo (PDK)
Personal Data
Date of birth 01/01/1951 in Fatos/Drenas
Married, 4 children, 3 daughter and 1 son
Education
1957–1965 Primary School, in Fatos (Negroc) in Arllat
1966–1971 Secondary School in Prishtina
1972–1976 Philological Faculty, branch of History in Prishtina
1995–1997 Post-Graduate Studies at Philosophical Faculty, Branch of History at the University of Prishtina in Prishtina
22.11.2003 Defence of Masters Dissertation at the Universitity of Kosova; topic: "Political Movement and Army Resistence in Kosova1991–1999".
Past and Present Activities and Functions
1972–1977 Teacher in Schools in Fatos and Arllat
1976–1977 Teacher in the Secondary School in Drenas, Drenas
1979–1981 Teacher in Arllat and in the Secondary School in Skënderaj
1991–1994 Teacher in the Secondary School "Skënderbeu" in Drenas
1995–1998 Chairperson of Education Council in Drenas
1998–1999 Spokesman of Headquarters of Kosova Liberty Army (KLA)
1999–January 2000 Minister in the Ministry for Reconstruction and Development
2001-Deputy in the first Legislation
March 2002-December 2004 Minister in the Ministry of Public Services in the Government of Kosova
October 2004 Deputy, Second (II) Mandate in the Assembly of Kosova
Chief of PG of PDK party
November 2007 Deputy, Third (III) Mandate
January 2008 In the plenary session of date 09 january 2008, he was elected President of the Assembly of Kosova
1973–1981 Clandestine Political Activity(ilegal)
1981–1991 Political prisoner
1991–1999 Member of Presidency of Democratic League of Kosova (LDK), branch in Drenas, during this time i was also Deputy of unconstituted Parliament of Kosova (1992–1998)
1998–1999 Spekesman of Headquarters of Kosova Liberty Army (KLA), Member of Headquarters, Member of Political Directorate
1998–2003 General Secretary of Democratic Prosperity Party of Kosova (PPDK), respectively Democratic Party of Kosova (PDK)
October 2005 Was re-elected GS of PDK party
November 2005 Member of GPS–from PDK party.
Publication: Political and Scientific Journalisms published in daily papers, periodicals and scientific magazines
December 2005, publishes his book: "Kosova in its historical context"
October 2006, publishes his second book: Big Turn-Kosova Liberty Army
December 2007, published his third book: A different war for Kosova.
Other languages than mother tongue
English–(literature using skills)
Croation–Fluently
Serbian-Fluently
Address