List of the Deputies of the Kosovo Assembly
Third Legislation Period (13.12.2007 - 03.11.2010)
Nexhat Daci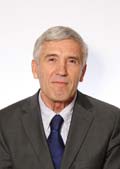 Functions in the Assembly of Kosovo
Party
DEMOCRATIC LEAGUE OF DARDANIA (LDD)
Personal Data
Date of birth 26/07/1944 in Tërnoc
Married, three children
Education
1962-1966-Universiy of Belgrade, FMNS – graduated Chemist;
1966-1968- University of Belgrade, Postgraduate studies, Master of Chemistry;
1969-1973-University of Zagreb, PHD studies, Doctor of Chemistry Sciences
1971 – English Language School, Foilkestone, (England);
1972 – Post-Masters studies, Liege , (Belgium);
1973 – Hydro-Project, Brno, (Czechoslovakia), studying purposes;
1974-1975 – University of Bradford, (England), Post-Doctors studies.
Past and Present Activities and Functions
1985- American Chemical Society- regular member;
1987- European Academy on Environment Issues, Tybingen, (Germany), regular member;
1994- Kosovo Sciences and Arts Academy (KSAA), regular member;
Participation in congresses, conferences, symposiums in: USA, England, Germany, Italy, Turkey, Hungary, Slovenia, Croatia, Serbia, Albania, Kosovo.
Publications
Primary School, Secondary School and University texts - 10;
Scientific Work - 120.
Reward "Sami Frashëri" for the University Book "Organic Chemistry" as the best text of year 1981.
Other functions:
1970-1972 – Head of Chemistry Section;
1992-2001 – Deputy of Kosovo Republic Parliament;
1992 - 2006 Member of LDK General Council since its establishment until 12.12.2006;
1994-1998- General Secretary of ASHAK ( Kosovo Sciences and Arts Academy)
1998-2002- President of ASHAK;
2001-so far, Deputy of Kosovo Parliament
2001-2004- President of Kosovo Parliament.
2004-2006- President of Kosovo Parliament.
17.02.2007- President of Democratic Liaison of Dardania;
2008 - (at present) - member of the Presidency of Parliament of the Republic of Kosovo.
Other languages than mother tongue
English (active)
Serbian (active)
Croatian (active)
German (passive)
Slovenian (passive)
Macedonian (passive)
Address