List of the Deputies of the Kosovo Assembly
Third Legislation Period (13.12.2007 - 03.11.2010)
Edita Tahiri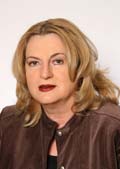 Functions in the Assembly of Kosovo
Party
Democratic Party of Kosovo (PDK)
Education
Master Degree in Public Administration, Harvard University, John F. Kennedy School of Government, United States, 2002
Certificate in Public Policy and Management, Harvard University, John F. Kennedy School of Government, United States, Edward S. Mason Program, 2002
Fulbright Scholar, Research in statebuilding, Johns Hopkins University-SAIS, United States, 2006/2007
Graduate of the College of International and Security Studies from George C. Marshall, European Center for Security Studies, Germany, 2003
Bachelor's Degree in Electronics and Telecommunication, University of Prishtina, Kosova. 1980
Postgraduate Studies in digital telecommunication, University of Essex, United Kingdom, 1983.
Past and Present Activities and Functions
President of ADK
Minister of Foreign Affairs, Government of Kosova, 1991-2000
Member of Parliament, Parliament of Kosova, 1992-1998; 1998-2000; 2001-2004; 2007-
Presidency Member, Democratic League of Kosova , 1991-1998
Secretary for Foreign Affairs of LDK, 1991-1998.
Chair of Parliamentarian Committee for Foreign Affairs, 1998-2000.
Chair of Parliamentarian Committee for Transport and Telecommunication, 2001-2004.
Special Envoy of President Ibrahim Rugova, 1998-2000.
Negotiator for Kosova at the Rambouillet Conference, 1999
Member of G15 and G4 negotiating teams of Kosova, 1998-1999
Member of Kosova delegation at London Conference, 1992
Chair and Co-Founder, Regional Women's Lobby for Peace, Security and Justice, (RWLSEE), 2008 –.
Honorary Citizen of the City of Little Rock, Arkansas, U.S., 1993
Honorary Shelby County Commissioner, Tennessee, U.S., 1993
Member of Partnership for Peace Consortium of Defense Academies and Security Studies Institutes, 2001
Member of Policy Commission, Transatlantic Institute, Brussels, 2005
Co-founder and Member, Unrepresented Nations and Peoples (UNPO)
Lecturer, University of Prishtina, Philosophic Faculty, 2002.
Lecturer, College of Art and Social Sciences, Prishtina, 2002.
Published work in politics, international affairs, electronics (books, text-books and writings).
Participation in many international conferences and other forums.
Other languages than mother tongue
Albanian ( mother tongue)
English
Serbian
Croatian
Turkish
Address