List of the Deputies of the Kosovo Assembly
Second Legislation Period (23.11.2004 - 12.12.2007)
Behxhet Brajshori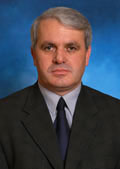 Send mail
Functions in the Assembly of Kosovo
Party
Democratic League of Kosovo (LDK)
Personal Data
Date of birth 11/08/1958 in Sharban - Prishtina
Married
Education
Degree in Economics – July 1982, MA of Economic Sciences, 1990 and the Albanian Diplomatic Academy in Tirana, 2005.
Past and Present Activities and Functions
Senior professional collaborator in the Entity for Economic Development in the field of energetic and coloured metals 1983-1990
Co-chair of the Department of the Public Services 2000-2002
ex nperience in management, administration and finance in economic enterprises 2000-2002
Minister of Culture, Youth, Sport and Non-residential Matters 2002-2004
Deputyminister in Ministry of Economy and Finance since March 2006.
Senior professional collaborator in the Economic Institute in Prishtina, author and co-author of a lot of scientific work from the field of economic sciences, as well as the independent scientific researcher in Economy.
Other languages than mother tongue
Address
Phone